QUALITY, ENVIRONMENT AND SAFETY AND HEALTH POLICY
KALEIDO, Ideas & Logistics is devoted to consignment, chartering of vessels and cargo logistics. Its main values are customer's satisfaction, the observance of the regulations in force, environmental friendliness, workers' health and safety and the boost of innovation and continuous improvement. Therefore, KALEIDO has implemented an Integrated Management Systemaccording to ISO standards 9001 and 14001, in the EMAS Regulation and the OHSAS 18001 standard.
KALEIDO's management team is committed to establish and periodically review its quality, environmental and safety and health objectives. In order to achieve those objectives, KALEIDO commits to:
Comply with the customer's requirements in order to satisfy them, offering the best service without impacting the environment and ensuring workers' safety and health;
Foster teamwork and the participation of workers in the management and development of a comprehensive system of environmental, quality and occupational safety and health management. For this purpose, it will provide the staff of the company with the necessary means to develop their responsibilities and encourage continuous training through an appropriate training plan;
Work under the principle of pollution prevention. Thus, KALEIDO will establish the methods needed to prevent, reduce and remove the waste produced in port and logistical operations; it will promote the sustainable use of resources, minimizing waste production and facilitating, in any case, its separation, reutilization and recycling;
Work at the same time under the principle of prevention of damage and workers' health deterioration. For this purpose, KALEIDO will provide the necessary resources, both human and material, in order to ensure what has been stated;
Extend KALEIDO's commitment to workers, suppliers and subcontractors by informing them about our quality, environmental and safety and health policy;
Establish appropriate communication channels (internal and external) which allow to work focusing on continuous improvement, an environmentally-friendly behaviour and a better performance in terms of occupational safety and health, always in accordance with the standards and legal requirements and other requirements to which the organization subscribes voluntarily.
In order to verify the correct performance of the integrated management system and its suitability, KALEIDO's management team will review it periodically with the aim of assessing its effectiveness and adaptation to the general policy.
Thus, anyone (KALEIDO's employee or supplier) whose activity may directly or indirectly affect the requirements described in the documentation of the integrated manual on quality, environment and safety and health is subject to the compliance of the aforementioned manual as well as the procedures where it is developed.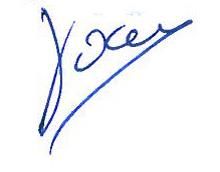 Vigo, 3rd of July 2015
Xoán Martínez Reboredo
General Manager